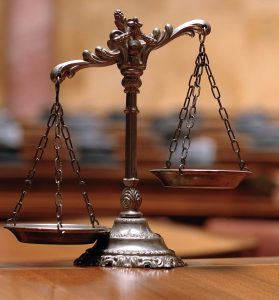 The Faculty of Law offers the specialty in addition to required, elective, and applied courses which relate to public and private law in order to effectively prepare students for their professional life. The Faculty of Law presents conferences, panels, and seminars, and conducts research in conjunction with local and foreign experts on a national and international level through IGUL (Global Law Programs Directorate). These events aim to inform students and educators about the changes in laws and international law procedures.
The purpose of the Faculty of Law at International VISION University is to become the leading higher education in its activity in the country.
In this direction the realization of this goal is possible only if it is based on:
strengthening of the cooperation with the local community, industry, public authorities, legislative and executive,
institutions of the civil society,
Institutions of the European Higher Education facility
as well as the discovery and realization of common interests through the use of the positive achievements of applicable knowledge and skills.
Achievement of stated goals are possible only if if faculty functions for long-term effect on the institutional level, dynamic, critical and engaged in higher education institution, open toward social, scientific and educative change, in academic autonomy.
At the same time, the Faculty of Law will work towards the development and strengthening of international scientific cooperation. The academic staff of faculty participate in the work of many international institutions and bodies, and in this direction, in the future will intensify its cooperation with other higher education institutions in the region, European, Eurasian, and in other regions of the world. Professors of the Law, have always been involved as prominent experts in the various organs of the state, and today their experiences will integrate in the education of new generations of lawyers and attorneys have the knowledge and skills equivalent to the best European legal traditions.
Valuation of the human capital is fundamental value and guarantee for the successful realization of the goals of faculty. In this context, it is encouraging mobility as well as institutional support of all teacher's human research careers and the responsible application of procedures for the quality assurance.
Course lists Faculty of Law
* *Elective courses from the university list in first cycle studies
No
Courses
ECTS
1
English Language 1
6
2
Macedonian Language 1
6
3
Albanian Language 1
6
4
English Language 2
6
5
Macedonian Language 2
6
6
Albanian Language 2
6
7
Globalization and intercultural communication
6
8
Informatics
6
9
Ethics
6
10
Communication in Public Administration